ABOUT OUR BELIEF IN A CURE
A HOMERUN CURE FOR CANCER STARTS NOW
It all started with a little girl named Elena Desserich. She too was a victim of a rare form of brain cancer (DIPG) and she was five years old. Within months she lost her voice and soon afterward experienced partial paralysis. Still she kept fighting and inspiring those around her with her courage. Soon her story reached tens of thousands of people nationwide and her artwork, termed as "iconic" by other artists, became a fixture in hundreds of homes and hung on the wall of her local art museum. Today it serves as our logo and our inspiration to the fight we carry on in her name. Her story has been told thousands of times in over 20 countries worldwide, both in media and in the journal that her parents kept telling her story to her younger sister. Today that same journal is published worldwide and as a bestselling book titled "Notes Left Behind", today benefiting The Cure Starts Now Foundation. Sadly, her fight ended just nine months later in her bed alongside her mother and her father.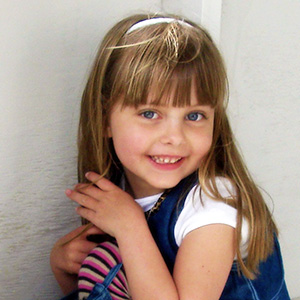 There are many more children and many more stories. All of which make our mission so important and are the reason why we must proceed in a unified effort to cure cancer. Each child represents a life, an opportunity, and a chance. They are part of our soul, our mission and their pictures grace our web site. We are not a foundation from one child, instead we are a mission of many. This is why The Cure Starts Now Foundation fights for the cure for other children with brainstem glioma and cancer survivors everywhere. Our mission has received the attention of the local and international press. Our fundraising efforts have come from over 20 locations worldwide and countless fundraisers spanning the globe with additional families joining our mission daily. What started with just one child now becomes the mission of people nationwide.
The cure for cancer is just as important as it is elusive. We can cure cancer one-by-one or we can focus on THE cure which we believe will come from a cure for pediatric brain cancers. The fight begins today and the cure starts now.